The International Brotherhood of Electrical Workers Local 153, which now covers Berrien and Cass counties in Michigan and St. Joseph, Elkhart, Marshall, and Kosciusko counties in Indiana has come a long way since chartered on April 21st, 1914. Then, there were only 18 electrical workers at the time. Those charter members were Fred Champaigne, Louis J. Brehmer, Omer C. Naftzger, Roy Watt, Calvin Beatty, William Weber, C. Sinnoth, Rob Elliott, R.J. Suabedissen, W.A. Henry, Walter A. Stickley, Lester E. Beatty, E.A. Nimtz, R.M. Dice, Leo A. Mathis, Frank Hamer, Oliver Davis, and B.J. Doehmer. Although those brothers have passed away, we all owe them a debt of gratitude for having the courage to start our Local Union back in those early days. Over time the ranks have grown to the current local force of over 900 skilled men and women.
But there is more to our story. The history of organized electrical workers goes back well before our officially recognized charter date. It is interesting to note that the IBEW thrived in the Michiana area, well before what is counted as the official charter date. Chartered on May 25, 1901, almost 13 years before the date we mark as the beginning, IBEW Local 132 began organizing in the South Bend area with J. E. Perry as local President.  Later that same year, the first to claim the "Local 153" designation, in Galveston, Texas, gave up the 153 number and a group of electrical workers in Marion, Indiana organized and chose to use it to become Local 153 for the next seven years.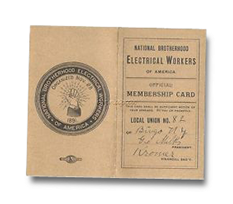 The International grew rapidly early in the 20th century and with the growth came polarizing ideals for the management and ambitions of the union. Divisions arose over foundational issues, such as the IBEW's priorities and organizational structure.
From 1908 to 1913, two organizations claimed to be the real International Brotherhood of Electrical Workers. One faction was led by Frank McNulty, an inside wireman who had been elected President of the IBEW at the 1905 Convention. On the other side was a group led by Jim Reid, a former Ohio lineman who became a Vice President, also in 1905.  Known as the Reid-Murphy Split, South Bend's Local 132 chose to go the way of the Reid-Murphy group along with many other locals.
For five bitter years the two sides battled for control.  The split came to an end in August 1913, when the Ohio Supreme Court ruled in favor of the McNulty IBEW and ordered Reid to stop using the IBEW name. McNulty immediately published an invitation to the locals that seceded, inviting them to come back into the fold with no repercussions and no questions asked. More than 100 locals ultimately re-affiliated with the IBEW.  In the month of April, 1914 alone, 56 locals rejoined the McNulty IBEW. Among them was the South Bend local which was reissued a charter and was now designated IBEW Local 153.
Back in 1914, there was very little to encourage this small group of men. The opposition to Unions at that time was very active and bitter. The obstacles seemed to be insurmountable and many a less hardy soul would have given up in despair.
Our Local Union not only survived, but has grown because these men and those who followed have organized the electrical industry in our area. They have promoted reasonable methods of work, cultivated feelings of friendship among our contractors and those in our industry, settled disputes between the parties in a reasonable manner and assisted each other in times of need. They have been able to secure a high standard of living and security for their members because of the Local Union's high standard of quality and productivity.
A proud history has now entered its second century.